Tankforhøyere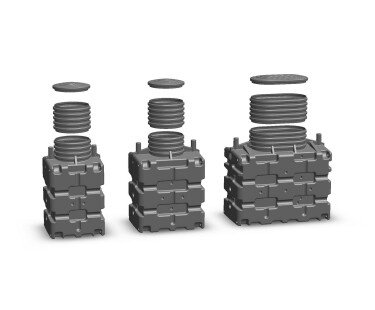 Det finnes to ulike modeller av utvidelsessett for BIOROCK; et rundt for 1500 and 2000 liters tanker (ø 600 mm) og et ovalt for 3000 liters tank (700 x 1,250 mm ).
BIOROCK anbefaler å utvise stor forsiktighet ved bruk av utvidelsessett, særlig ved dype installasjoner.
Tilgjengelige utvidelsessett
Lengde
mm
Høyde
mm
Vekt
Kg
Tank
1500L
Tank
2000L
Tank
3000L
Tank
5000L
Regard
400
Regard
400-5000
Utvidelsessett 700
P-BIO0049
700
600
13
x
x
Utvidelsessett 1250
P-BIO0046
1250
600
17
x
xx
Utvidelsessett 400
P-BIO00152
400
600
4
x
x
Forfilter utvidelsessett
P-BIO0065
x
x
x
x
BIOROCK Reaktortanker (ECOROCK-1500, 2000 og 3000) og primærtanker (BIOROCK-ST serien) har som standard et integrert, 600 mm høyt utvidelsessett. Man kan tilpasse utvidelsessettet ved å kutte dem.
---