BIOROCK-ST1-3000 Septiktank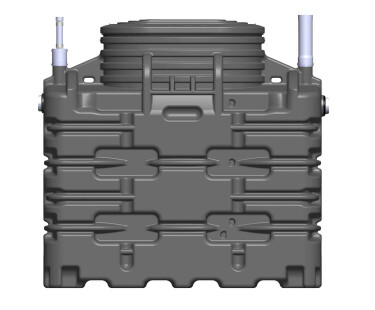 BIOROCK-ST septiktanker er tilgjengelig i 3 størrelser: 2000, 3000 og 5000 liter.
Volum og totalkapasitet kan økes ved å installere tankene i serie.
BIOROCK-ST tanker er dimensjonert slik at to tanker kan plasseres side om side. Dette gir mer økonomisk transport.
To integrerte spor på undersiden av tankene gjør det enkelt og trygt å flytte dem med gaffeltruck eller pallejekk. Løftekroker i hvert hjørne på toppen gjør at de enkelt kan løftes på plass med kran.
Nederst i hjørnene finnes fire ringer beregnet på forankring med stropper ved montering i våte grunnforhold.
Alle BIOROCK-ST septiktanker har et integrert utvidelsessett.
Alle BIOROCK septiktanker er standard utstyrt med avløpsfilter in utløpsrøret. For spesifikasjon, se "Tilbehør" (avløpsfilter).
---